Brenda and I have made some Paint Shop Pro tubes for you to use. Just click on the graphic to download the zipped files, and then unzip them and export them into Paint Shop Pro. A link back to this page will be appreciated if you use any of these tubes. Enjoy!!!
You may use this graphic as a link back to this page if you like: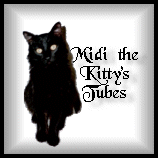 You are visitor number
to this page since May 19, 2000.




Background and photo Copyright © 2000 Brenda Parris Sibley